HUSTLIN' A HUSTLER (1998)
SYNOPSIS
Hustlin' A Hustler follows the misadventures of MC Adam, a white-boy rapper under the gun to produce $6,000 to secure what appears to be a big-time record deal. The catch? He only has one week to raise the dead presidents. Hell-bent on nailing the deal, MC Adam makes enemies and bad moves galore in his seven-day mission, while an eclectic soundtrack throbs in the background. Shot on Hi-8 video, this was Taeoalii's 2nd full length feature. Shot in 1998 immediately after Luck & Rat Poisoning's release.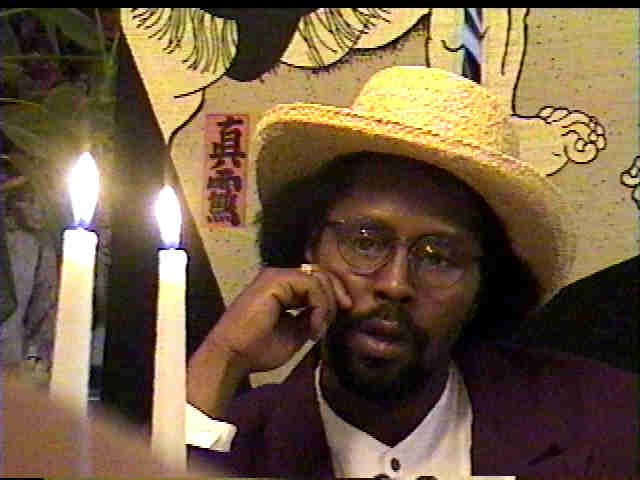 Screen image of James Clark

CREDITS
writer/producer/director: Joshua Tai Taeoalii
starring: Joel Stanley Huff, Adam J. Woolsey, Chad Green, Lane Richins, Veronique Vicari, Josh Rogers, Johnny Riche, Jeramy Johnson, Nate Salazar, Travis Kaneko, Dave Leitt, Matt Watts, James Clark
editor: Joshua Tai Taeoalii
director of photography: Joshua Tai Taeoalii
story by: Joshua Tai Taeoalii & Joel Stanley Huff
screenplay by: Joshua Tai Taeoalii

PICTURES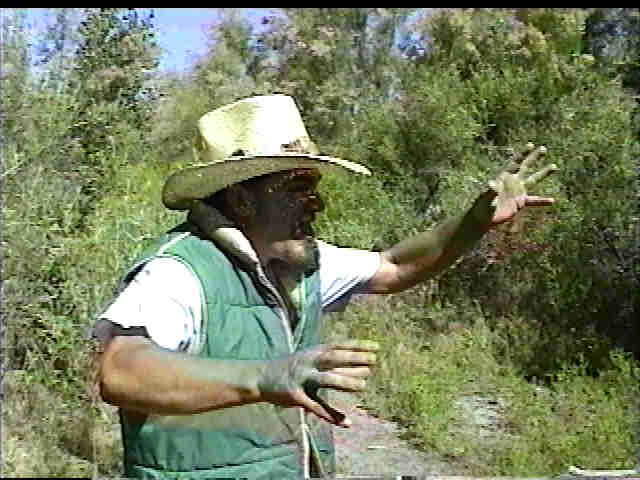 Screen image of Chad Green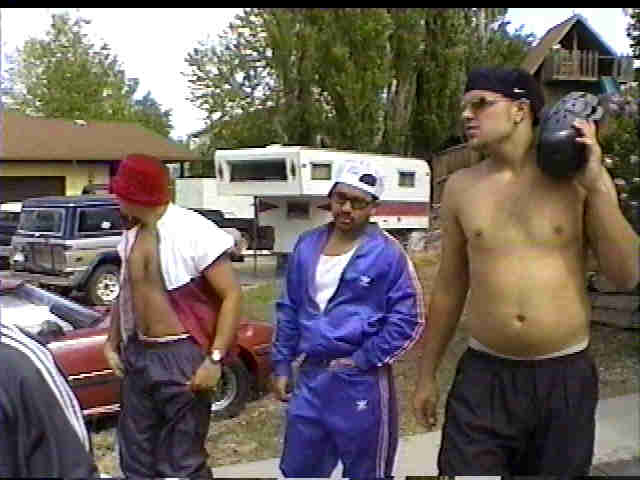 Screen image of Nate Salazar, Travis Kaneko and Jeramy Johnson.
"The Jumpsuit Joey Bros"
---

REVIEWS
by Jeff Vice
Deseret News
Two different programs this weekend feature previous selections from a prestigious annual film festival and the second effort by a Utah filmmaker:
LOCAL DIRECTOR Joshua Tai Taeoalii made his first film, the skate-culture comedy Luck and Rat Poisoning, with help from a lot of his friends, including producer, co-writer and editor Nick Westbye.And though many of those friends have returned to star in Hustlin' a Hustler, his second film, this time Taeoalii did the lion's share himself - he wrote, filmed, produced, edited and directed the 92-minute video feature.
The Utah Film and Video Center is presenting a one-night-only screening of Hustlin' a Hustler on Friday at the Salt Lake Art Center, 20 S. West Temple.
This comedy-drama centers on the misadventures of a young, would-be rapper, Adam Worley, who is offered a record deal. But in order to make the album, Adam (who has adopted the name MC Adam) has to come up with $6,000 by the end of the week.
So to raise the money, Adam is forced to pull scams and hustle, angering several people in his neighborhood. And just when he nears his goal, the neighborhood bullies, the Jumpsuit Joey Brothers, come to collect the $4,000 he owes them.
Hustlin' a Hustler is not rated but does feature some R-rated content and material.
Showtime is 8 p.m. Admission is $6, $5 for students, seniors and UFVC members.