Lady And Gent -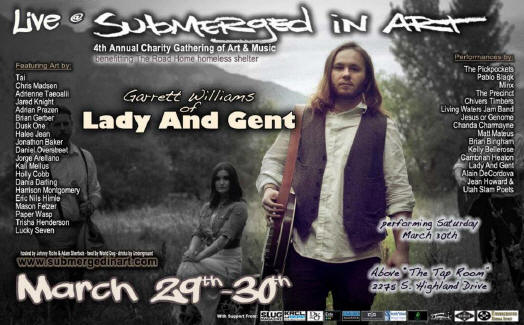 Lady And Gent
-
website
(Sat. March. 30th - Outdoor Stage)
In their first year, Lady & Gent already has a lot of people talking, comparing them to the Avett Brothers, Mumford & Sons, Jimmy Buffet or Ray LaMontagne. Some call their music Folk, some call it Country, and others call it Indie. The band members themselves argue that Americana/Folk is probably the best categorization but are quick to add that fitting into a generic mold has never been their priority.
Lady & Gent has quickly built a reputation for producing genuine emotion in their songs, delivered directly from the hearts of real people with real pains, real joys, real questions and real hopes.
Despite a seemingly abrupt arrival to the music scene, Lady & Gent's foundations extend back much earlier. Frontman Garret Williams had a passion for music since childhood, but didn't learn to play an instrument until age 20. While living in South America, he found an old guitar in the back room of his small house and asked his roommate to teach him a few chords. Garret quietly developed his musical ability for a few years before writing his first song, "By the Ocean," in secret. He kept his songwriting to himself for another year before beginning to show up alone to open-mic nights at various venues around Utah. Before long he began to gain a reputation for performing well-crafted songs with fresh, raw feeling.
After a year on the open-mic circuit Garret, along with his brother Ben Williams, teamed up with Caleb Loveless and Dana Sorensen in preparation for an upcoming Battle of the Bands at Velour Live Music Gallery—one of Utah's premier music venues. After only a handful of practices, the band (performing without a real name and being introduced simply as "Garret Williams and Friends") beat out 20 of Utah's best up and coming bands, winning Velour's Battle of the Bands and joining an impressive list of past winners, which include Neon Trees and Imagine Dragons.
Encouraged by their initial success, the band set out to pick an official name, eventually deciding on Lady & Gent, because it seemed to reflect the confident yet unassuming quality of their music. Garret and the band spent the next several months playing shows in Utah, Idaho and the western United States, sharing the stage with national acts such as Matt Costa, Rocky Votoloto, Griffin House, Kalai, Isaac Russell and Parachute. They connected with Ben Sorensen of 29th Street Studios in Salt Lake City to record their debut album, "To Death in Delta," in early 2012. In April 2012, Lady & Gent performed their album release show to a rapidly growing crowd of loyal fans at Velour, the place where it all started.
Garret, Ben and Dana would be the first to tell you that they're a more polished band than they were on the night they first performed as "Garret Williams and Friends." Despite all the polishing, however, Lady & Gent has stayed true to the authenticity that won them that battle of the bands and has been winning them fans everyday since. Their sound may be cleaner, purer and fuller, but their songs are still written from the honest place of not so perfect hearts. They are songs wrought from personal experiences, songs about true happiness and true sadness, real love and feigned love, long lives and tragically short lives. They are songs that hit you in the heart and linger in your soul.