Mason Fetzer -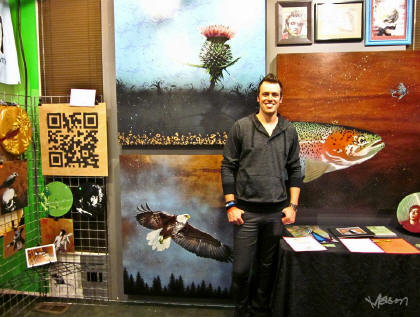 Mason Fetzer: - website
Mason Fetzer is a Salt Lake City artist who smashes together classical technique, contemporary media, urban methods, and unconventional materials. A child of the digital revolution, Mason pioneered "Plexis": layered Plexiglas paintings that play with the eye.

After two years as a pre-med student and a stint in the graphic design program, Mason finished his undergraduate work as a painting and drawing major—earning a Bachelor of Fine Arts from the University of Utah in 2006. Since graduating, Mason has split his efforts between graphic design and fine art. He currently works as a freelance designer and has created logos for numerous businesses across the western states.

As an artist, Mason has participated in several local exhibits in Salt Lake City and Park City, Utah. He worked on a mural project along the UTA Trax line, which depicts the historic joining of the railroad lines. That work led him to the Utah State Legislative Session in 2006 to petition for more spending in the arts. Since then he has painted several other large-scale murals.

In 2009, Mason participated in the Manifest Hope:DC exhibit during the inauguration of President Obama in Washington DC. He most recently painted the trophies for the 2010 US Snowboarding Grand Prix and was there to watch Shaun White take home a piece of his art. Mason is also an avid music supporter and plays lead guitar and sings in The Precinct, an indie-folk duo.