When:
Friday, March 29th, 6pm - Midnight
Saturday, March 30th, 6pm - Midnight
Where:
2275 S. Highland Drive
Salt Lake City, UT 84106
"Above the Tap Room"
Admission:
Suggested donations
***2013 WINNING TICKETS CLICK HERE!***

*2013 SILENT AUCTION WINNERS CLICK HERE!*
Submerged in Art - Spring 2013
4th Annual Charity Fine Art Exhibition
Submerged in Art is an annual fine art exhibition in honor of the The Road Home homeless shelter that takes place at 2275 S. Highland Drive in Sugarhouse above The Tap Room. This admired and inspired event features hundreds of paintings, sculptures and prints alongside live music and spoken word performances by a group of thriving Utah artists, musicians and wordsmiths. Salt Lake City Weekly honored the 2012 Submerged in Art event with a "Best of Utah" award and we are committed to organizing another award-worthy event in 2013. On March 29th-30th will be an intimate gathering of Utah contemporaries providing an opportunity for the public to submerge themselves in an exhibition of the arts, where they are able to meet with the artists and purchase their creations. A respectable portion of the artist's sales along with all proceeds from prize drawings, silent auctions and door donations will benefit The Road Home.
With the support of dedicated volunteers and donations from many local businesses, including the exhibition space, the 2010, '11 and '12 events attracted immense crowds of enthusiastic Utahans raising thousands of dollars for The Road Home.
With a charitable objective, Submerged in Art is an exposition of refreshing artistic disciplines comprised of a unique coalition of Utah artists. "Our goal is to use these refreshing talents to raise awareness and to generate excitement in our guests, which in turn will hopefully assist in raising more funds for The Road Home. Enthusiastic attendees almost always equals more donations and let's face it, at a charitable event, that's what matters." – says Tai, the event's founder.
Both evenings will feature the MC prowess of TV and radio personality Johnny Riche, feeding by the World Dog cart, live music performances by Minx, The Precinct, Chivers Timbers, Jesus or Genome, Chanda Charmayne, The Pickpockets, Cambriah Heaton, Living Waters Jam Band, Matt Mateus, Lady & Gent, Kelly Bellerose, Alain DeCordova and Brian Bingham amidst a gallery of artwork by Tai, Adrian Prazen, Holly Cobb, Jared Knight, Brian Gerber, Halee Jean, Jonathon Baker, Chris Madsen, Trisha Henderson, Dusk One, Adrienne Taeoalii, Eric Nils Himle, Dania Darling, Daniel Overstreet, Jorge, Mason Fetzer, Kali Mellus, Harrison Montgomery, Lucky Seven, Alex Boynton and Paper Wasp.
General Info:
Suggested donations
Friday, March 29th; 6pm – Midnight and Saturday, March 30th; 5pm – Midnight
Location: 2275 S. Highland Drive (Above the Tap Room)
Tel: 801-971-1561.
E-mail: tai@weirdchief.com
Web Site: http://www.submergedinart.com

2013 NEW
*Winning Tickets posted NOW
*@SubmergedInArt is now on Twitter & Instagram.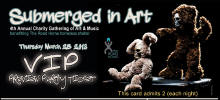 *Submerged in Art VIP party March 28th. 'Invite Only' for sponsors, volunteers and performers 7pm-11pm


*First 300 guests to buy $5 of prize tickets receive a drink voucher to "The Tap Room" courtesy of Underground Herbal Spirits & Five Wives Vodka
*NEW to 2013 Event: Tap Room patio bar and outdoor stage performances by Alain DeCordova and Garrett Williams of Lady and Gent.
2012 NEWS
*The 3rd Annual Submerged in Art gathering of art & music wins a "Best of Utah" nod from City Weekly.
*Read Slug Magazine's review of the Submerged in Art show.
*Read the Now Salt Lake article about 2012 Submerged in Art.